HUNDREDS OF USES. SIX CONVENIENT SIZES.
CONDITIONS. WATERPROOFS. PROTECTS.
Transform Your Leather For The Better
Transform the look and overall condition of your leather goods with Leather Better, our all-natural beeswax-based leather conditioner, proudly made in Canada.
Buy Now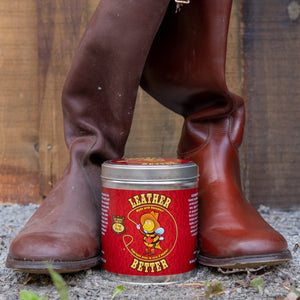 Easily Apply For Instant Results
Leather Better waterproofs, conditions, and protects your leather in seconds. Simply apply a thin layer with a rag or sponge, wipe the excess dry, and walk away with a renewed look.
Buy Now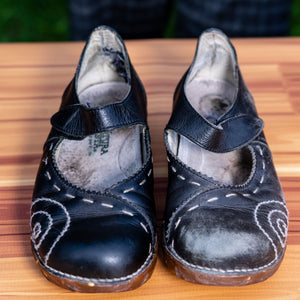 Results To Write Home About
Your leather boots, shoes, jackets, saddles, tack, bags, and furniture are left looking irresistibly handsome, protected, and ready to take on the elements.
Buy Now
RESTORE THE LOOK OF ANYTHING LEATHER
WATCH A LEATHER BETTER DEMONSTRATION
THOUSANDS OF CANS SOLD. THOUSANDS OF HAPPY CUSTOMERS.
Leather Better made my old hiking boots look like new! I used my hands to apply it to my old hiking boots, and the colour that had been rubbed off from years of wear, reappeared like magic.

Carol P.
My boots and purses are an investment - and I know I can count on Leather Better to keep keep them looking amazing.

Charlott C
A versatile product with many uses. I applied it to my antique table and the wood looks much happier.

Author's naChris. Zme
Great stuff. Lost my last one in my divorce. Even she wanted it.

Dan G.
It does a beautiful job of cleaning and keeping our leather seats looking good! It works on all our leather and vinyl just like you said.

Ricky N.
I used it in my green leather Harley jacket and it brightened it right up.

Russel M.
I used Leather Better on a damaged wood table, and the scratches disappeared. 

Jessie S.
Thanks for creating this product! It's a necessity - and keeps my leather goods looking great.

Charlott C
Beautiful conditioning on my Moorby boots. Will definitely use on my Indian seat, even on my car seats. Highly recommend this leather conditioner!

Reiner